Cross Creek Kennel Testimonials
We are so happy with Vinnie...he's a huge cuddler and a great family dog. We were so lucky to find you!
Keep us posted. We love your updates and Vinnie loves to see his family on the Christmas card. When we're ready for our second Golden, we'll definitely get him from you!
Jane, Jim, Claire and Jack Edgell
Woodbury, MN
Star's Sir Calvin (Vinnie) of Cross Creek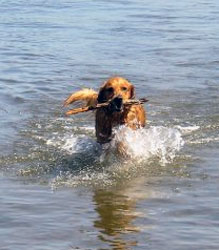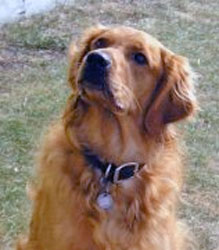 Charlie has been the best dog I personally have ever owned. His temperament is great and he is a phenomenal hunter. Retrieved with no training what so ever. Great nose as well. Most definitely will get my next golden from cross creek kennels. Save the darkest one for me.
John Pollard, Fargo ND
"We love the fact that Spice is a FAMILY dog. She and her brother, from a different litter, Buckwheat, are very much alike!
She is very gentle and patient with children. She LOVES them all.
We really love having her as a part of our family. We are looking forward to meeting Flynn, the newest Raverty dog.
Maybe someday, we will be brave enough to add another dog to the family. If so, it will be a Toston puppy.
Thanks for helping us have a great addition to our family."
The Jason Raverty Family
"We were so pleased with the puppy that we purchased from Tom and Karen Tosten, that we decided to purchase a second puppy. They are both very intelligent and extremely easy to train.
They had both been well socialized and in excellent health. Although we purchased Gunner and Tanner as family pets its obvious that they would make great hunting buddies. They will retrieve sticks in the river and tennis balls in the yard endlessly.
Even thou they are full of life and love to play, they are not hyper, and understand when its time to settle down and cuddle. We have owned dogs for the last 40 years and both agree that Tom and Karin's line of Goldens has the best temperament of any dogs that we have owned. "
Doug and Denise Aadalen
We brought Casey into our family August of 2007. We are stopped often by strangers to ask about our dog, and comment how beautiful a Golden he is, so feel like it's true, and not just our bias. We have had Golden's in the past, but never one so smart, loving, great with our children, and beautiful.
The Toston's family of Golden's fell upon us as a gift, and we are grateful to have gotten Casey through them as well as for all their support over the process, and bringing him home. We feel like an extension of Cross Creek Kennels, and are very proud to have our Casey!
Dawn Mansergh